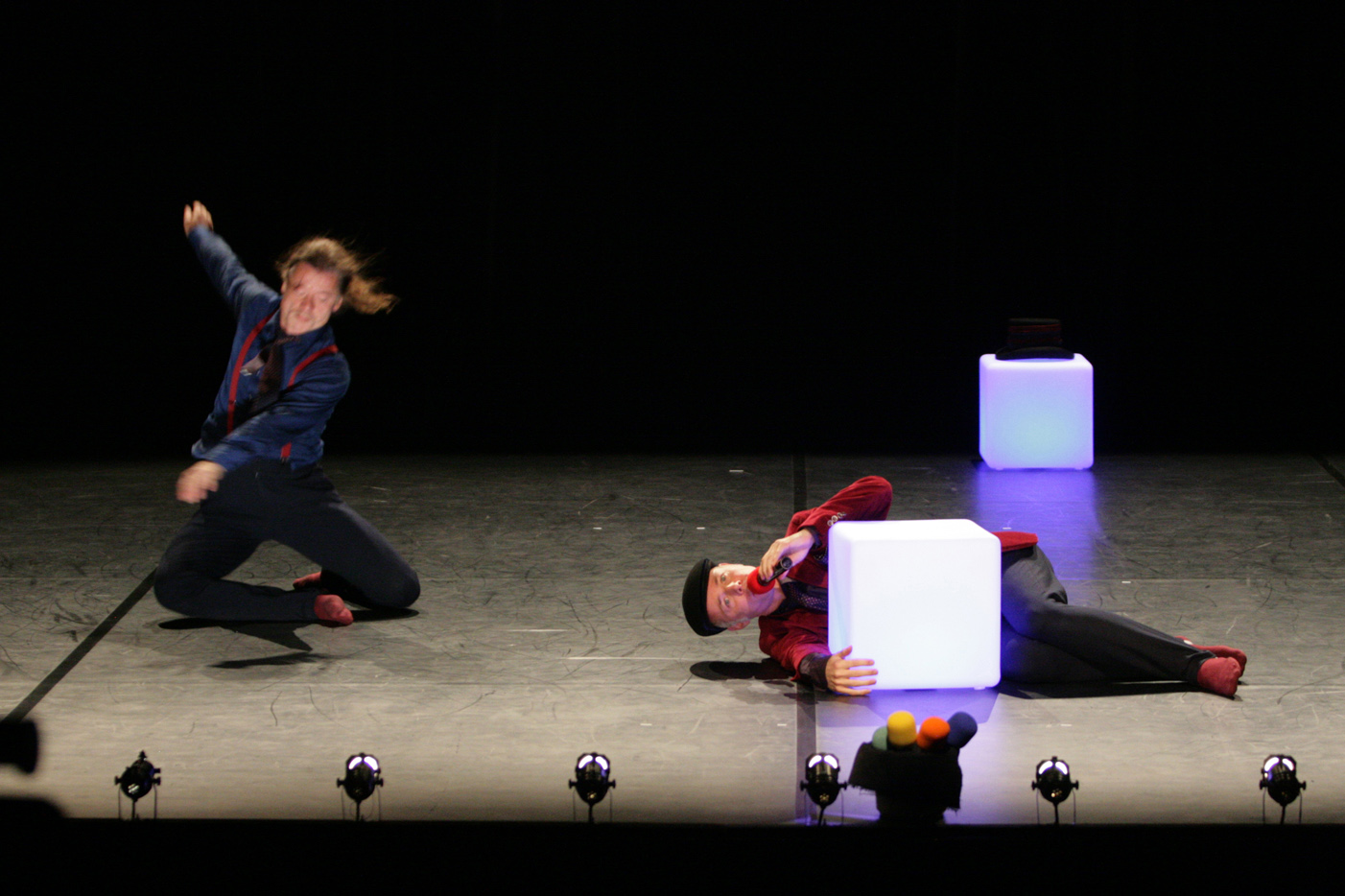 Machine of Desire (2014)
Eine Tanz-Konzert-Therapie
Das stetige Produzieren von immer neuen Sehnsüchten ist das Grundrauschen unseres Alltags, wir nehmen es nicht wahr. Nach der Auseinandersetzung mit der Maschinerie unserer "Scheinwelt" in ENDLESS REFILL hatten wir nun das Bedürfnis auch unsere eigene Produktion, sowie die Kulturbetriebsmaschinerie in näheren Augenschein zu nehmen und uns in MACHINE OF DESIRE in einer spielerischen Form mit den Eigenarten der Kulturmaschine und ihrer besonderen Sehnsuchtsproduktion auseinanderzusetzen.
Tanz, Musik, Konzept:
Guido Preuß und Karel Vaněk
Regie/Choreografie:
Karel Vaněk
Komposition:
Jörg Ritzenhoff
Musik:
Frederic Chopin, György Ligeti, Karol Szymanowsky,
Guido Preuß, Karel Vaněk
Kostümdesign:
Melanie Riester
Lichtdesign:
Markus Becker
Produktion:
Černá Vaněk Dance, Brotfabrik Bühne Bonn
Förderer:
Stadt Bonn, Ministerpräsidentin des Landes NRW
Presse
"Was wollen wir eigentlich wirklich? Wir sind Teil einer großen Wunschindustrie. Auf der Suche nach den Quellen unserer permanenten Wünsche schaut Tänzer und Choreograph Vaněk zusammen mit Musiker und Regisseur Preuß mit ungewöhnlichen Mitteln hinter den Vorhang. Wer nun aber schwere Kost erwartet,… der dürfte von dem eher spielerischen Umgang mit diesem Thema angenehm überrascht werden."
(Ulrike Strauch, General-Anzeiger Bonn, 18.11.2014)
"…eine erstaunliche "Tanz-Konzert-Therapie", bei der sie das Publikum teilhaben ließen an kleinen Bewegungsstudien, großen Reflektionen über Kunst und ihre Konzepte…so können nur bühnenerfahrene Menschen auf der Bühne agieren, die sich ihre Kreativität und ihren Humor nicht haben nehmen lassen."
(Dagmar Klein, Gießener Allgemeine, März 2014)
"….Eine Stunde Auszeit? Unbezahlbar."
(Ulrike Strauch, General-Anzeiger Bonn, 22.11.2014)
Fotos: Meike Lindek